#News • 29 September 2016
Balfegó estuvo presente en Mixologya 2016 con la Chef Begoña Fraire
Balfegó estuvo presente en Mixologya 2016, un evento que contó con la asistencia de cerca de 5.000 profesionales, una decena de líderes internacionales y más de 450 referencias destacadas del sector de las bebidas y los destilados en fusión con la mejor gastronomía se han dado cita durante dos días en IFEMA para promocionar la cultura del cóctel y su aplicación en la hostelería en fusión con la gastronomía más emergente. Los días 19 y 20 de septiembre, Madrid ha sido la sede del mayor congreso nacional de coctelería y el punto de encuentro imprescindible para ponerse al día con las últimas tendencias de esta industria que, según datos de la Federación Española de Bebidas Espirituosas (FEBE) comercializó en nuestro país en torno a 190 millones de litros de bebidas de 2015 y generó casi 330.000 empleos directos o indirectos en hostelería.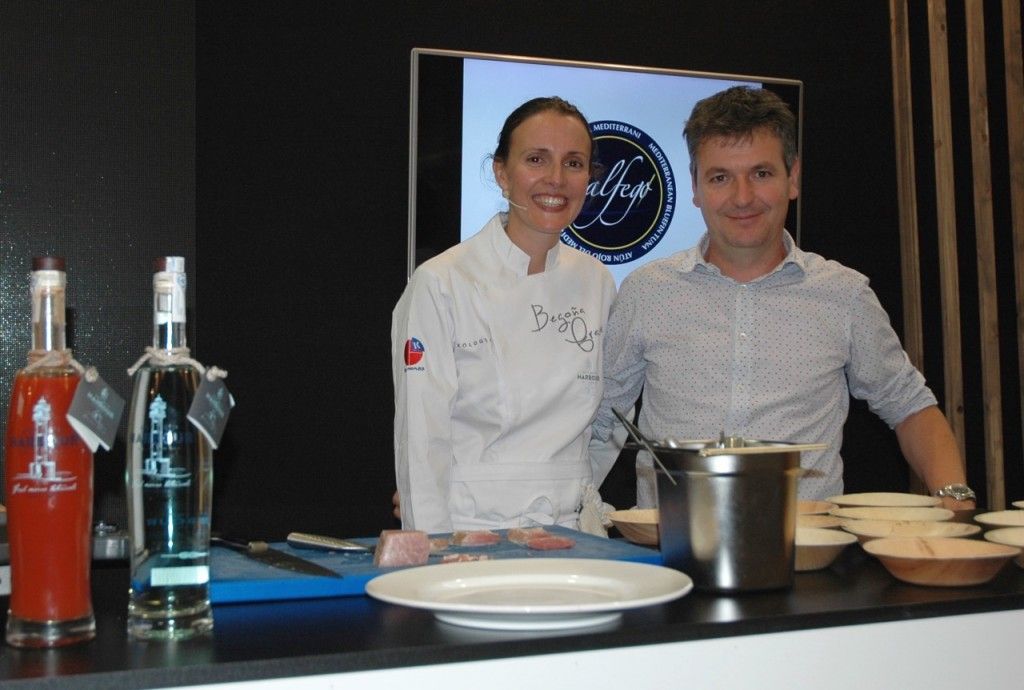 En el espacio gastronómico "MIX EAT" llegaría el primer día de Mixologya la Chef Begoña Fraire del Restaurante Seis Ocho. (Madrid) que realizaría un plato con ventresca de Atún Rojo Balfegó en fusión con Ginebra Harbou.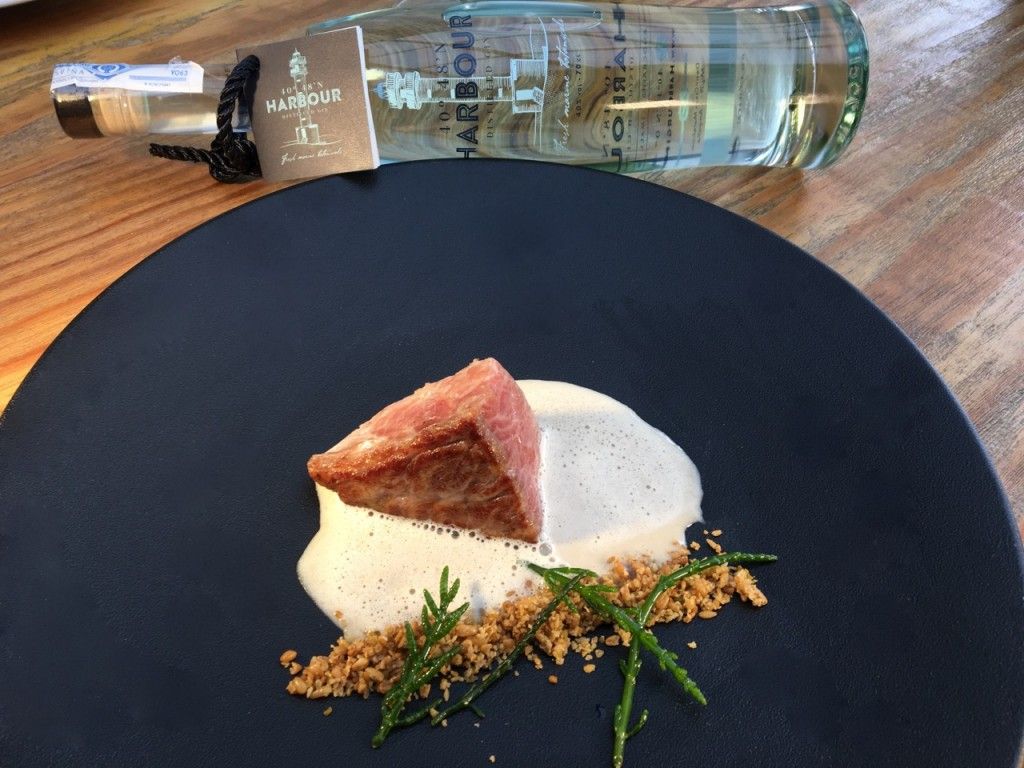 El plato elaborado por Begoña Fraire sería una espectacular "Ventresca de Atún Rojo Balfegó con salicornia, ajedrea, aceitunas negras e hinojo de mar"  en armonía con un Blody Mery de Ginebra Harbour.
En el segundo día de Mixologya 2016 el espectáculo continuó en la zona de "Mix Eat"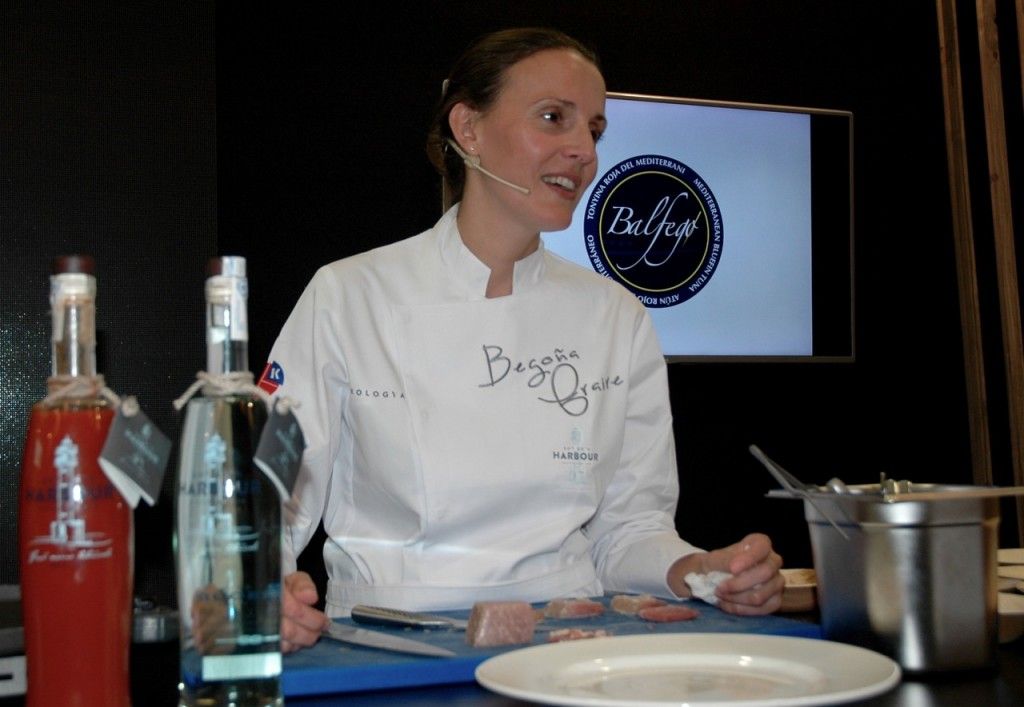 De nuevo Begoña Fraire. (Restaurante Seis Ocho. Madrid) realizaría su espectacular Ventresca de Atún Rojo Balfegó con salicornia, ajedrea, aceitunas negras e hinojo de mar en armonía con Blody Mery de Ginebra Harbour.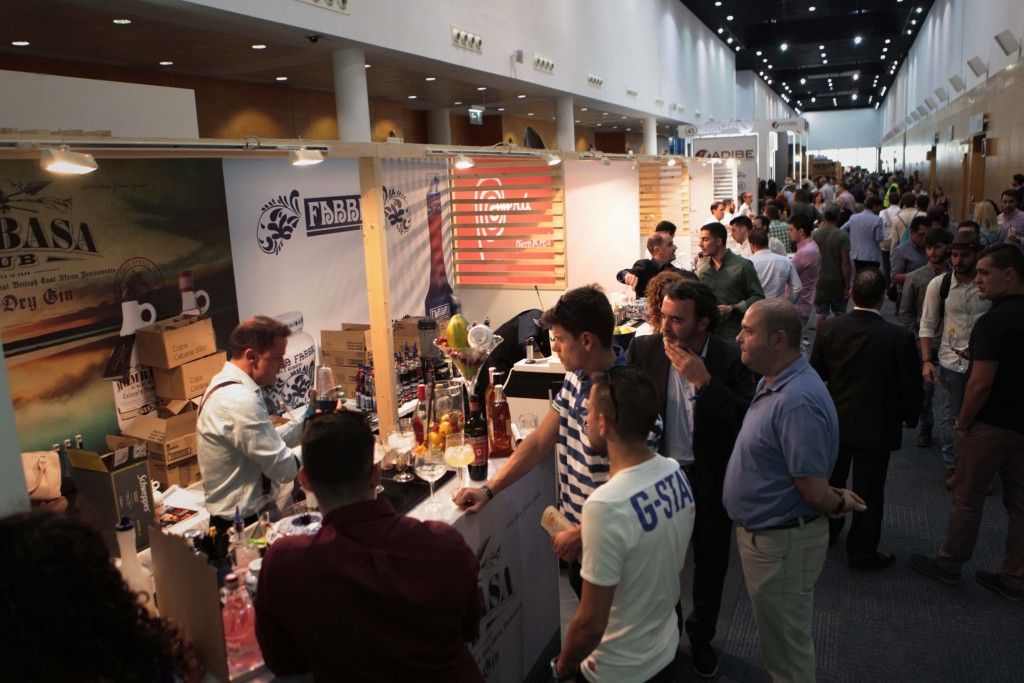 Mixologya 2016 estuvo dirigido principalmente a profesionales y medios de comunicación, en total se han impartido 30 ponencias a cargo de personalidades referentes a tanto a nivel nacional como internacional puesto que el objetivo de este congreso es en esencia educar y reforzar los valores, imagen y principales atributos de los productos del mercado nacional creando así un enfoque cultural a su alrededor.
Así, a lo largo de estos dos días, más de 2.000 oyentes han asistido a las 30 ponencias lideradas por Joao Eusebio, bartender de origen portugués que goza del amplio reconocimiento del sector. Entre las conferencias más destacadas se encuentran la de Hitdesugu Ueno (Bar High Five de Tokio / Best International Bartender en los Spirited Awards 2016), quien se enfocó en explicar la metodología de los bartenders japoneses. Por su parte, Charles MacLean, hizo un detallado recorrido por la historia del whisky desde su posición de gran autoridad en el tema. El periodista e historiador François Monti profundizó en la tendencia de consumo de cócteles como aperitivo mientras que Marc Álvarez (Bar Manager de El Grupo Barri de Albert Adriá) ilustró a los asistentes con consejos prácticos a tener en cuenta a la hora de montar y desarrollar su propio bar. Marian Beke, otro de los pesos pesados de la coctelería internacional, basó su ponencia en cómo los bartenders pueden dejar volar su creatividad inspirándose en ideas ajenas hasta dar forma a las suyas propias. Muy interesantes también resultaron las intervenciones de Stephan Hinz (Spiegelau), Jorge Bretón (Basque Culinary Center) y Alfred Cointreau (familia Cointreau) entre otros.
Sin duda, Madrid ha acogido una vez más, el evento más importante de coctelería en España y el cuarto a nivel internacional, donde han acudido bartenders de gran prestigio internacional para enseñarnos las tendencias en coctelería y novedades en el sector. 
Link para descarga de imágenes: https://we.tl/VXl5T1ypN1
Hitdetsugu Ueno, International Best Bartender (Spirits Awards 2016): "Excellence in Hospitality"
Charles MacLean, whisky connoisseur: "Past, present and future of Whisky" y "Sensorial tasting of whisky"
Hitdetsugu Ueno, (High Five, Tokio), Marian Beke, (The Gibson, Londres), Jillian Vose, (The Dead Rabbit, New Yor): "International Bartending Trends"
François Monti, periodista experto en vermouth y en historia de la coctelería: "12 O´Clock Cocktails"
Marc Álvarez, Bar Manager del grupo "Elbarri" de Albert Adriá: "Pop up Bar"
Carlos Moreno, Habanera (Madrid): "Shaking cocktails outside of shaking bars"
Javier Caballero, formador y asesor de técnicas de bar: "Bartending Techniques"
Damián Seijas, ganador del X campeonato nacional de baristas: "Coffee & Cocktails"
Alfred Cointreau, Brand Heritage Manager y 6º generación de la familia Cointreau: "Cointreau Noir"
Marian Beke, una de las referencias en el mundo de coctelería londinense: "Inspirational ideas"
Frank Lola, Bar Manager de Tatel (Madrid): "Finding the balance of cocktails in a menu"
Fabio LaPietra, Bar Manager de uno de los bares más considerados de Sao Paulo: "Tropical Fruity and not tiki cocktails"
Youssef Mrabet, Spirits Ambassador: "Rum-ning around the world"
Dean Callan, whisky Monkey Shoulder Brand Ambassador: "Evolution of whisky cocktails"
Jorge Bretón, Basque Culinary Center: "Creativity and innovation"
Óscar Pino, mixólogo de Macadamia: "Economy in the bar"
Fabián Cercano y Elena Martín, expertos en licores artesanales La Vieja Licorería: "Craft Liqueurs"
Peter Lewis y Gemma Brownlees, fundadores del bar Garden: "Chicken vs egg"
José Andrés Colmena, Brand Ambassador de Habanos en España y Luis Trillo: "Habanos con Nomad"
José Andrés Colmena: "Habanos con ron Havana Club selección de maestros"
Alberto Fernández, Brand Ambassador de Solán de Cabras: "The evolution of non alcoholic cocktails"
Marcio Silva, cachaça connoisseur: "Cachaça e bom demais"
Pepe Carballido, Carlos López y Pancho Ortenzi, mezcal connoisseurs: "Spirits of Mexico"
Santi Ortiz, Bar Manager del hotel Ohla y Paulo Venuto, bartender de Tandem Bar Barcelona: "Ice craft"
Grupo Larrumba: "Business groups in the industry"
Agustín Sans, director comercial de Nielsen Company: "Trends of the beverage industry"
John McDonell, Presidente del Consejo de Bebidas Alcohólicas de los Estados Unidos (DISCO): "Power of Authenticity"
Chile: Piscos. Chile´s Sensations Proposal
Stephan Hinz: barman de gran prestigio internacional (Spiegelau):"Importance of glassware in the beverage indrustry"
Para más información: 
You may also be interested in...